The Community Foundation of the Endless Mountains is thrilled to mark a significant milestone - our 25th Anniversary. It is a momentous occasion that calls for celebration, reflection, and heartfelt gratitude.
We are so thankful for the individuals and groups who have played a role in our journey. As we look back on the past 25 years of making a positive impact in our community, we are deeply indebted to the individuals and groups who have played a role in our journey. This milestone cannot be celebrated without expressing sincere thanks and gratitude to our founders, donors, board members, staff, and the incredible community that has supported us throughout the years.
BIRD'S EYE
VIEW of 25 years
19,000 grants were made
and the average grant was $1,455


25th Anniversary Video Series:
INTERVIEW #1: Tune in as Cristine Clayton interviews Peter Quigg, President of the Community Foundation of the Endless Mountains and Cindy Beeman with Interfaith, one of our longest standing relationships.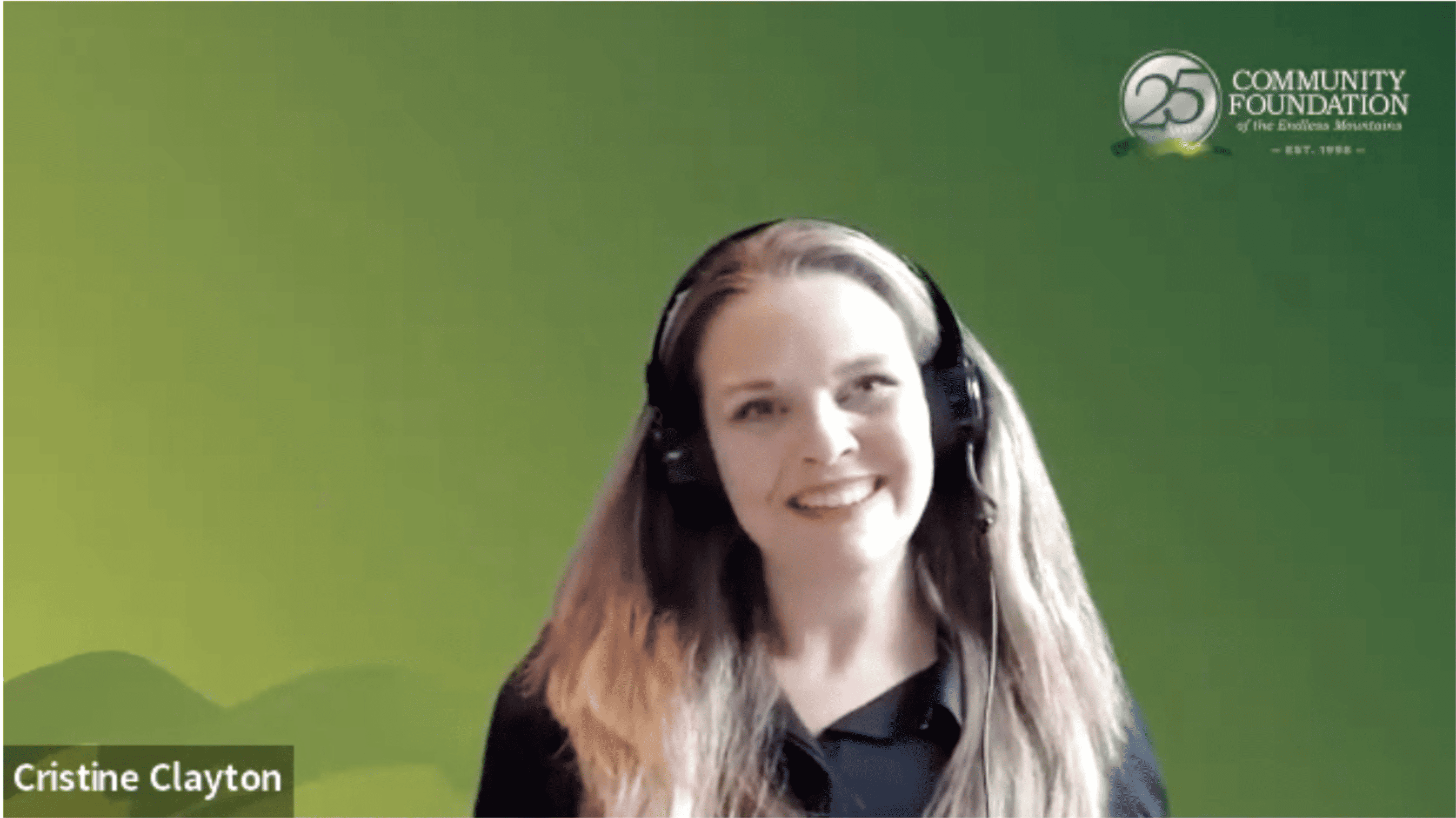 HISTORY OF THE FOUNDATION: Learn more about the founding years of the foundation, the vision, and how it's making history... today.
AN INTERVIEW WITH PETER QUIGG: CRISTINE CLAYTON INTERVIEWS PETER, PRESIDENT OF THE COMMUNITY FOUNDATION.
AN INTERVIEW WITH SUSQUEHANNA COUNTY CAREER AND TECHNOLOGY CENTER: CRISTINE CLAYTON AND MELISSA TURLIP, FROM THE COMMUNITY FOUNDATION, INTERVIEW JOHN GAZZILLO, EXECUTIVE DIRECTOR OF SCCTC, AND TAMMI MOWRY, ADULT FINANCIAL AID COORDINATOR OF SCCTC.
AN INTERVIEW WITH SUSQUEHANNA COUNTY HISTORICAL SOCIETY & FREE LIBRARY ASSOCIATION: CRISTINE CLAYTON INTERVIEWS KRIS ELY, ADMINISTRATOR; STEVE SPERO, PRESIDENT; AND SUE STONE, FORMER ADMINISTRATOR AND EMPLOYEE FOR 40 YEARS.
Twenty-five years ago, Earle Wootton and Bill Lewis came together with their vision to create a Community Foundation that would make a difference in our small community. Twenty-five years later, we are serving the Endless Mountains Region and beyond. Their dedication and foresight have guided us every step of the way and we owe them a debt of gratitude for their enduring commitment.
who we owe our deepest appreciation to for their incredible support. Your financial contributions have provided resources to fuel our initiatives and drive our impact. Without your support and unwavering belief in us, none of our accomplishments over the past 25 yeas would have been possible. Together you have impacted many organizations, students and nonprofits and for that we are grateful.
OUR DEDICATED BOARD MEMBERS
have played a major role in our organization's future. We are fortunate to have a variety of skilled professionals to help us navigate challenges, seize opportunities and ensure that our organization remains strong. We extend a heartfelt thank you to each board member, past and present for their commitment.
BEHIND EVERY SUCCESSFUL ORGANIZATION, THERE IS AN EXCEPTIONAL STAFF,
past and present, we express our deepest appreciation to them for their passion, dedication and hard work. Their commitment has been instrumental in achieving our goals and continuing to bring our vision to life. The impact we have made over the past 25 years is a testament to your unwavering efforts and we are grateful for your contributions.
WE EXTEND OUR SINCERE GRATITUDE TO OUR COMMUNITY FOR THEIR INCREDIBLE SUPPORT.
You have demonstrated unwavering support throughout the past 25 years. Together we have handled challenges and created a legacy that will benefit many generations.
As we celebrate this milestone, we look forward to the future with renewed passion and commitment,
knowing that together, we can continue to create a brighter world.