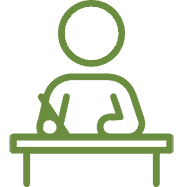 Thanks to the generosity of individuals, families, and businesses, our foundation administers several opportunities for students and nonprofits in our region to apply for financial support.
Each opportunity is unique. This is because the donors who established the funds have thoughtfully constructed areas of focus, grant guidelines, and parameters for support to fulfill their own visions for improving the quality of life in our community.
FUNDS WITH GRANT OPPORTUNITIES
Scholarships for Careers Endowment
Established anonymously by a local family with ties to Elk Lake School District. The scholarship is for graduates of Elk…
[More]
Robert and Diane Turrell Family Scholarship
Established by Robert and Diane Hill Turrell. Provides a post-secondary scholarship to a high school graduate who is a student…
[More]
Step 1:
Review our list of Grant & Scholarship Opportunities
We update this list frequently as new funds and grant opportunities are added. Each grant opportunity includes a summary of the parameters and timing for applications.
Step 2:
Review our Frequently Asked Questions
Be sure you've learned as much as you can about how our grant making works.
Step 3:
Apply for the grant by completing the forms indicated for each opportunity
The timeframe is listed for when applications will be accepted.  During this time, click the link to our online application. 
There is no set range; rather, the dollar amount of each grant depends on the fund making the grant, the purpose of the grant, and the timeframe for results to be achieved.
Decision-makers depend on the fund from which the grant is made. For example, grant making decisions about dollars flowing from our community fund are made by our board of directors, while legacy funds established by a family are made by family members and the people they appoint.   
Grant making effectiveness is important across the board, and we encourage donors to adopt evaluation procedures that best align with achieving their philanthropic goals. Evaluation practices are determined by the individuals, families, and boards of directors who oversee each grant making fund.    
Although the majority of grants from funds are made to nonprofit organizations in our region, the geographic reach of a particular grant depends on the philanthropic goals and intentions of the donors who established the fund.