2020 Financial Information
This has been a tough year, but the staff of the Community Foundation responded by working from home and replacing face-to-face meetings with Zoom. This is our annual report, a report of a challenging year and a highly successful year.
2020 was a year of dreadful disease and an economy that threatened a collapse. The stock market fell 34% in five weeks, but the steep decline started to turn around in late March, long before there was a positive outlook for containing the pandemic. The economic recovery and a gain of 76% in the S&P 500 contributed to a strong performance for our Foundation as our staff worked from home and concentrated many of our efforts on COVID relief.
Despite the difficulties that the past year presented, the Foundation achieved new records for growth. Nearly every measure of our performance reached new highs. The following eight graphs will highlight that growth.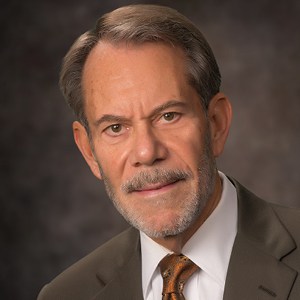 Earle Wootton
Chairman of The Community Foundation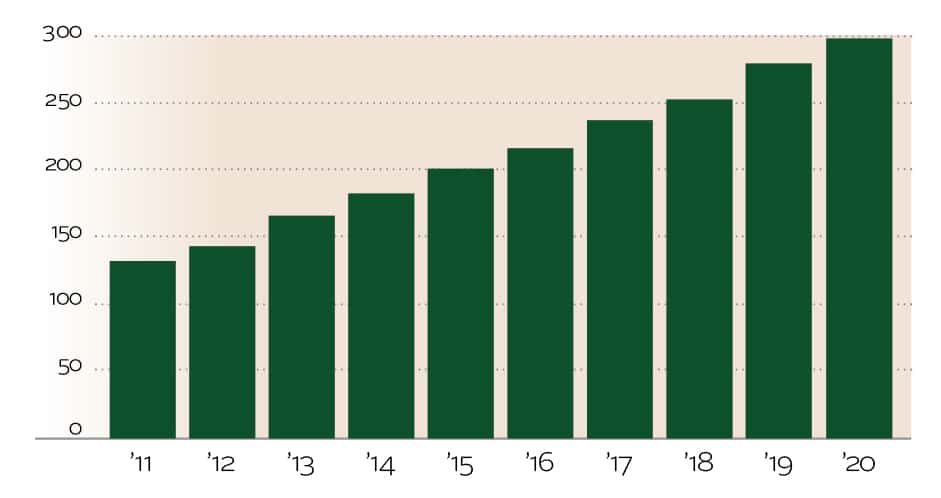 NUMBER OF FUNDS
The growth in the number of funds that were established, 22, is nearly double our long term average. A larger percentage of funds were created by corporations and families. Some of our new funds are large managed funds which will receive more specialized administration.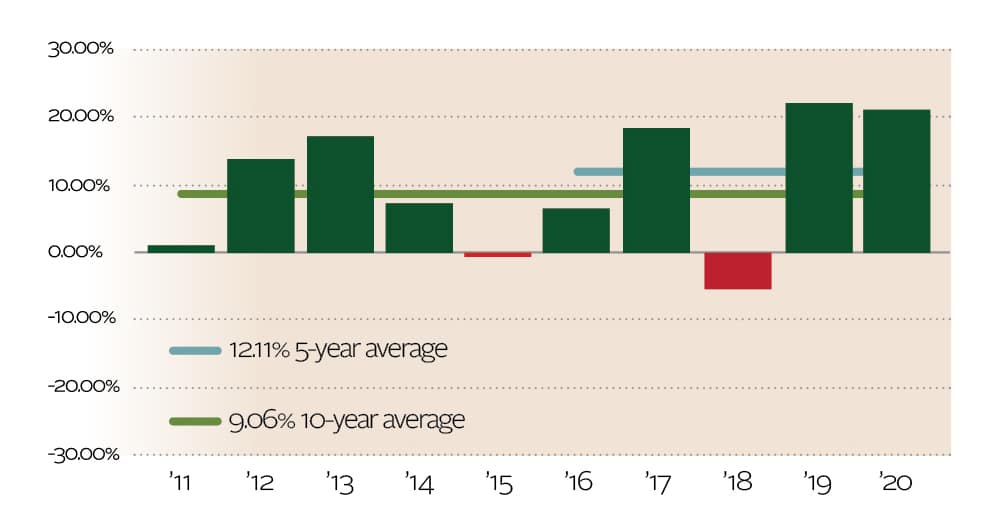 INVESTMENT RETURN
The investment return surpassed 20% for the second year in a row, 2019, 22.21%; 2020, 21.34%, including all investment expense. Our five year average was 12.11%. These extraordinary returns have increased the value of our funds and consequently the amount of the grants they can make. Building value by reinvesting, tax free, has increased our donors' legacy.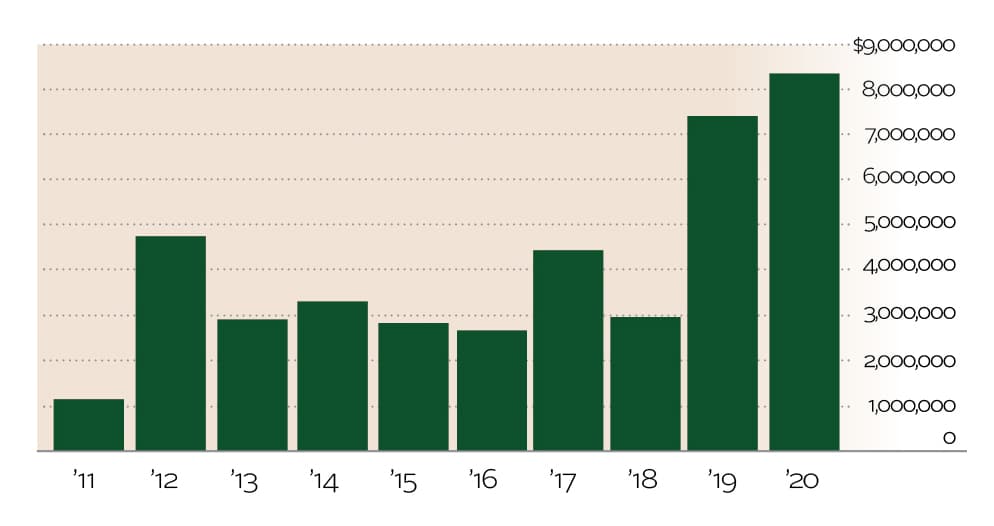 TOTAL REVENUE
The revenue in 2020 was $8,365,859. This surpassed 2019 by nearly a million dollars. This level of income was comprised of $5,369,747 of contributions and over $3 million in investment returns.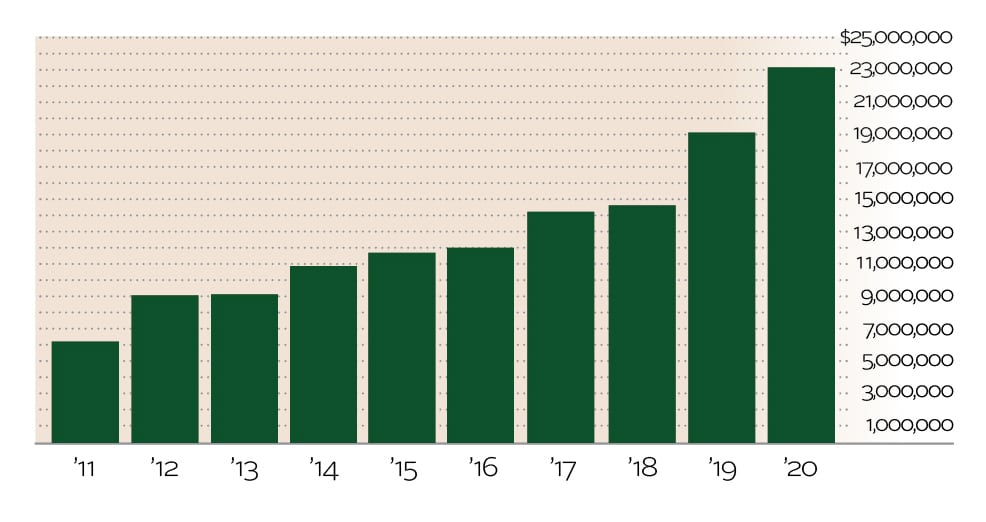 TOTAL ASSETS
The total assets grew by $4 million dollars reaching $23,287,890. This growth was the result of superior investment returns and the high level of contributions from our donors. These assets are comprised of endowments, charitable savings accounts, funds held for distribution and our real estate.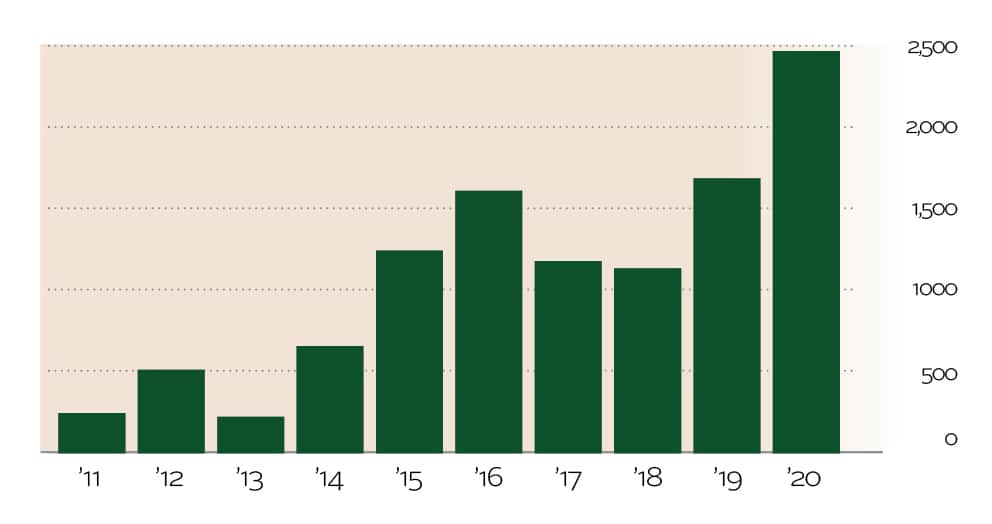 NUMBER OF GRANTS
2,495 grants were made in 2020, an increase of 48% over the prior year. In addition to the number of grants increasing, many of the grants support programs that can benefit an entire school district which increases the grants' impact even more.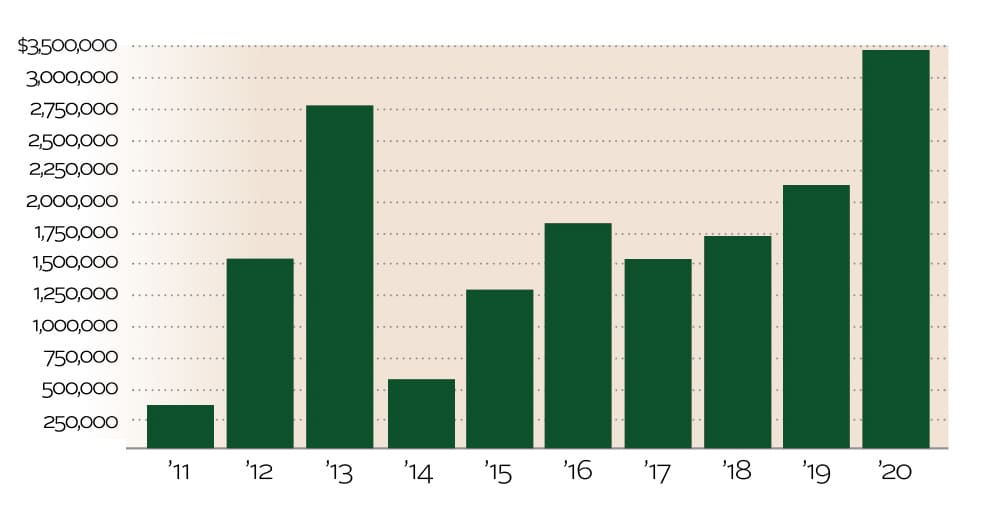 TOTAL VALUE OF GRANTS
The grants that were made in 2020 had a combined value of $3,449,083. This is a 61% increase over 2019. The average size of an individual grant was $1,382. The majority of our grants are for an educational purpose, but we have many funds that serve other donor's wishes.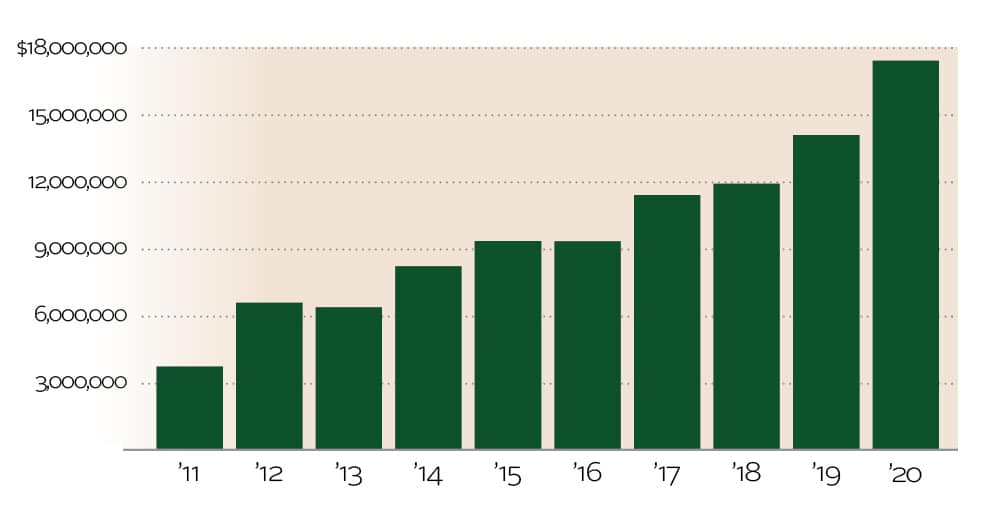 ENDOWMENT ASSETS
The combined value of our endowments was $17,309,323. These endowments create annual grants which support the charities in our area according to the donors' recommendations. Each of our endowments has a separate investment account that is managed by the Vanguard Group.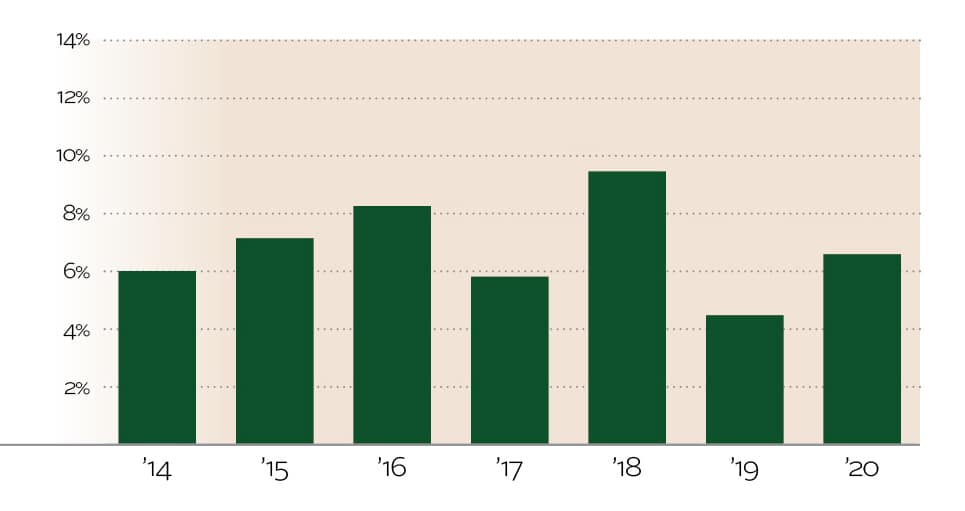 OPERATING EXPENSE RATIO
The Operating Expenses as a percentage of Income was 6.59%. This percentage is slightly greater than last year, but is well below the operating expense ratio of most charities. The expense that is charged to our endowments is 1% of the amount of their principal.